Nanohana Sky Lounge
Hours of operation
No Limit
Fees
Adult:1,100yen(Tax included)
Child(from 3 to 11 years old):550yen(Tax included)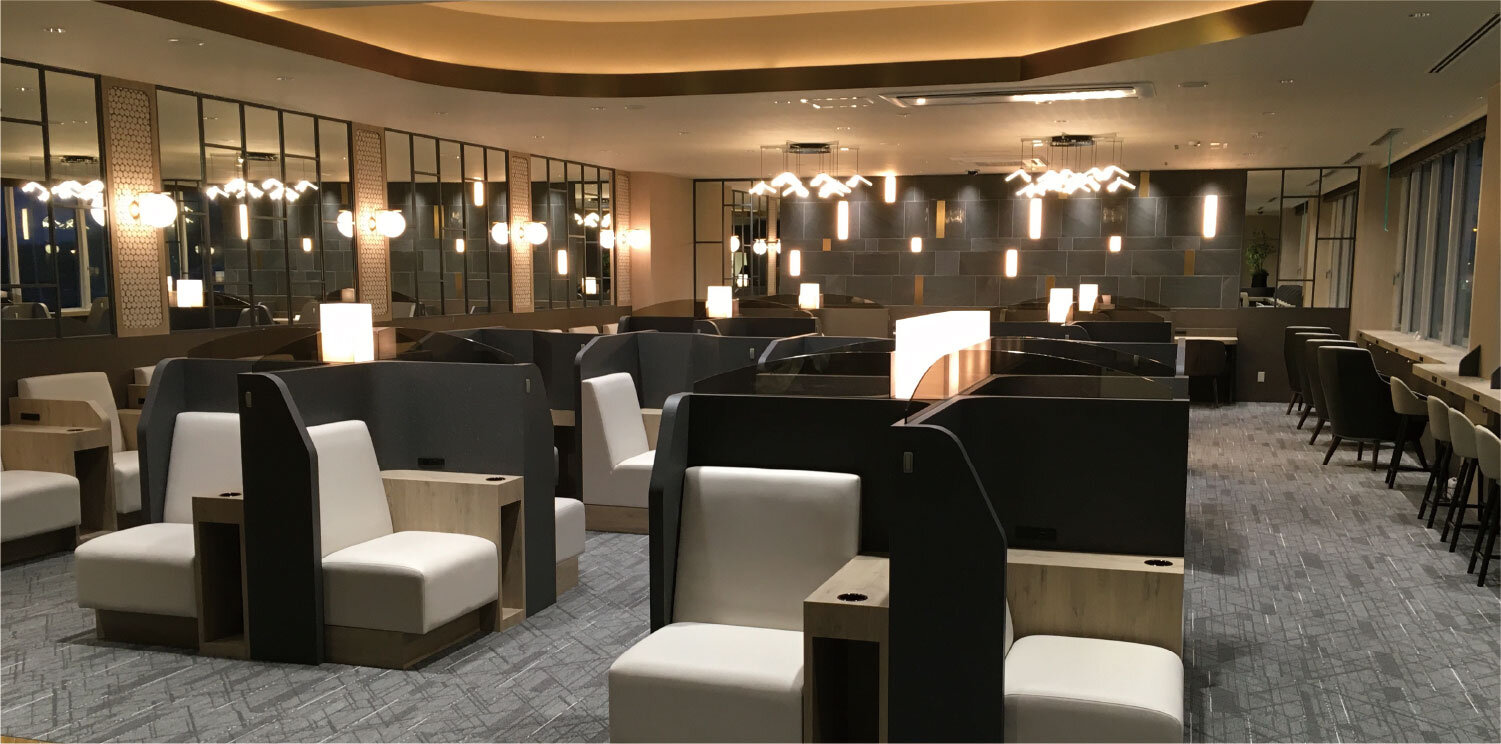 Facilities
■Card Holder Admission Fee
The basic admission fee is waived for guests who present one of the gold cards listed below in addition to an airline ticket issued for the day of admission, or something that verifies they will board a plane on that day. Services available for accompanying party members vary by credit card. If you are unsure about the eligibility of your card, please inquire at the reception desk.
| | |
| --- | --- |
| | Gold Card, Platinum Card |
| | JCB THE CLASS, JCB Platinum, JCB GOLD THE PREMIER, JCB GOLD |
| | Platinum Card, Gold Card, Young Gold Card |
| | Royal Card, Platinum Card, Gold Card,(Excluding some cards.) |
| | Lexus Card, Gold Card |
| | Platinum Card, Gold Prime Card, The Gold, Gold Upty, Business Gold Card |
| | Gold Card, Premio |
| | Life Card Gold |
| | American Express Cards (Cards issued in Japan, with the exception of some Corporate Cards and co-branded Cards) |
| | Diners Club Card |
| | DC Gold Card, DC Gold Card Vingt |
| | JACCS CARD PLATINUM, JACCS CARD GOLD |
| | Rakuten Black Card, Rakuten Premium Card, Rakuten Gold Card |
| | Gold Card, Gold Card Premio |
| | MUFG Card Gold Prestige, MUFG Card Gold Premio, MUFG Card American Express® Card(above gold card), JAL American Express® Card |
| | EPOS Gold Card, EPOS Platinum Card |
| | MICARD⁺ PLATINUM,MICARD⁺ GOLD,MICARD GOLD |
| | Porsche Card, Mastercard®Gold Card™, MastercardⓇBlack Card™, Mastercard®Titanium Card™, bitFlyer Platinum Card, APLUS Gold Card |
| | P-one(Premium Gold) |
| | d CARD GOLD |
| | au PAY Gold Card |
| | PayPay Card Gold |
| | Dragonpass members |
■Service Details
【Free Services】
Soft drinks
Access to newspapers, magazines, and a variety of brochures
Wi-Fi(Kagoshima Airport Wi-Fi)
【Pay Services】
Beer
※* In addition to the services above, we have also prepared snacks and Kagoshima Prefecture's specialty "shochu" (distilled liquor)
■Lounge (all seats are no-smoking/ 74 seats)
Enjoy a moment to yourself in a relaxed atmosphere. Our lounge offers a view of distant Sakurajima volcano, as well as a variety of newspapers and magazines for your reading pleasure.
■Free shochu tasting
We are preparing shochu, a special product of Kagoshima.
■Other Services
Drink Counter (self-service) Multi-Purpose Restroom (men's and women's) Flight Information Monitor (displays departure times) FAX/Photocopier.
■When using
The content and fees are subject to change, so please check before using.
Smoking is prohibited in the lounge.
Drinks are self-service.
Please refrain from bringing food and drinks into the lounge and taking out food and drinks provided in the lounge.
Underage drinking is prohibited by law.
Please refrain from entering with pets.
We do not store luggage.
Children under the age of 12 must be accompanied by a guardian.
*Please cooperate so that everyone using the lounge can relax comfortably.
Hours of operation
7:00〜20:00(365 days)
Phone number
0995-73-3638(Travel Service Division)